Reaching over 250,000 per Broadcast
North America's Online TV Station 
Live Broadcasts and TV Shows 
https://www.youtube.com/watch?v=ll_aKN_lkfI
Why KBM?
Amateur Sports TV and Radio – Live broadcasts of sports plus full coverage inclding scores, news, interviews, and podcasts. Sports shows for hockey, baseball, curling, football, Sports Desks and more coming. Manitoba, Saskatchewan, Wisconson, Washington, and coming to Alberta, Ontario, Florida, and Minnesota.
KBM Digital Media LTD – TV shows including THE Farm Show, THE Rural Show, THE Real Estate Show, and more coming.
About the Athletes – Player videos and combines for scouts, universities, and junior teams in North America and around the world.
Manitoba Based

Shows for all audiences

Live Broadcasts

Online Measureables

Connecting Manitoba, one camera at a time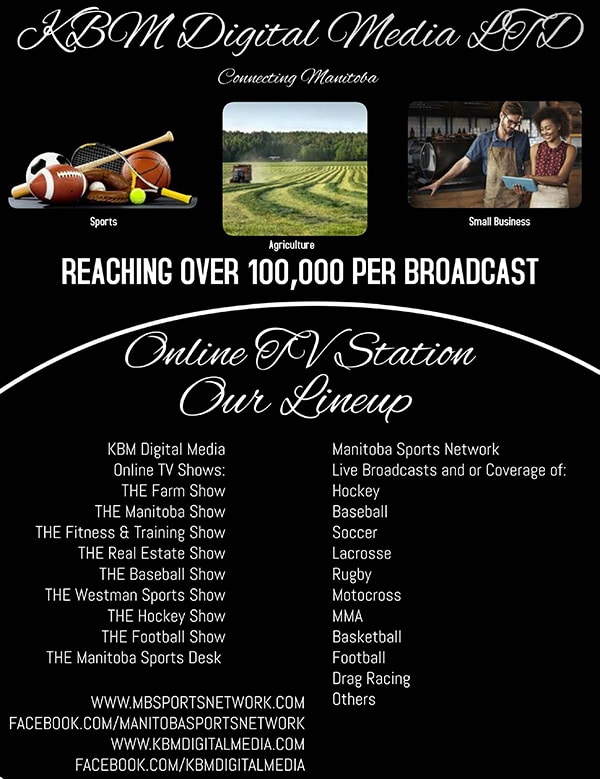 About Us
There was a hole in the media coverage of amateur sports, agriculture, small business and rural areas in North America.  That's where KBM Digital Media and Amateur Sports TV comes in with the largest growing network in North America including Amateur Sports TV and other online content.

View our Full Broadcasting Lineup

352+

Live broadcasts
30+

TV Locations
40+

Cities/Towns Covered
20+

Years of experience